The management of Wisconsin International University College, Ghana (WIUC-GH) has initiated engagements with a 17-year-old budding engineering talent with the hope of adopting.
The Junior High School graduate, Samuel Aboagye recently made some waves on social media following his invention of a solar-powered electric scooter. Prior to this, Samuel had invented a simple gadget including the miniature washing machine, drones, and electronic veronica buckets for hand washing. Much of Samuel's inventions are built manually from scratch with reused parts and household items such as wood and plastics.
During an engagement session with management of Wisconsin University College at the instance of the Chancellor, Ghana the Chancellor expressed the university's desire to include Samuel Aboagye in its long list of beneficiaries to enhance his social support system to enable him to realize his full potential.
Speaking to Samuel and his entourage, the Chancellor of WIUC-GH, Dr. Paul Kofi Fynn expressed the need to support and encourage young talents like Samuel for the betterment of the country. He bemoaned instances when talents go waste due to a lack of a better support system.
Samuel Abopagye who was accompanied by BBC reporter Favour and his JHS science teacher, Mr. Sam Hagan described Samuel as a quiet, reserved, and shy person, adding even though Samuel is not the regular 'As' student, his incredible engineering talents are captivating.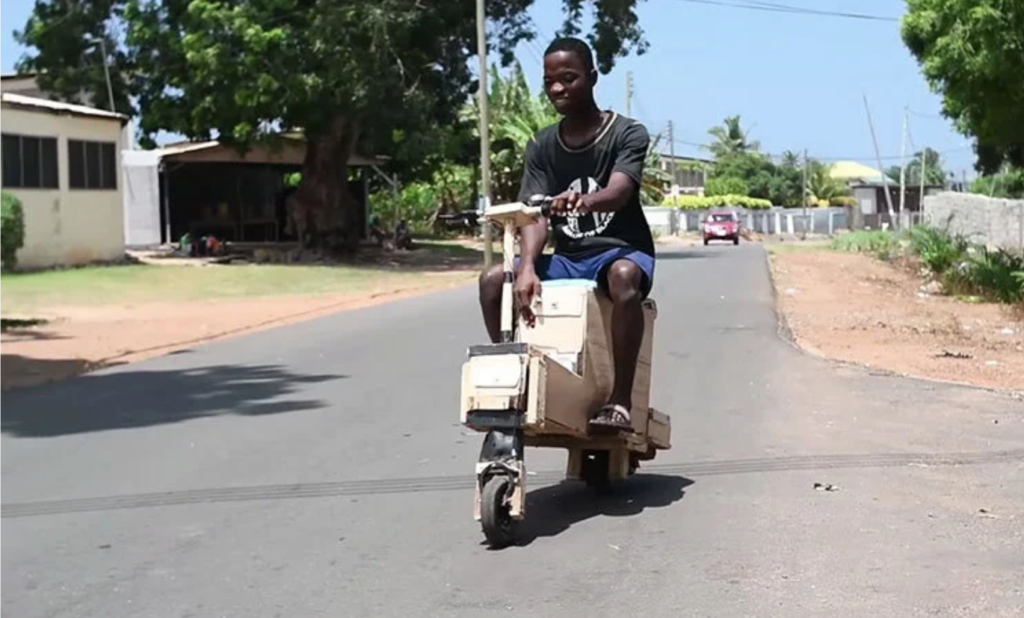 The 17-year-old inventor was hopeful inspiration from the works of his mentor, Ghanaian scientist, and entrepreneur, Kwadwo Safo Kantanka will spur him to greater heights to become a globally acclaimed inventor.
The Chancellor of the Wisconsin International University College has meanwhile set up a 4 member committee to brainstorm and advice on the best approach to ensure Samuel talent is fully maximized
Samuel Aboagye hails from Sefwi Bekwai but lives in Tema Comm. 2 and completed Aggrey Road'2' Junior High school in 2021 awaiting his result.