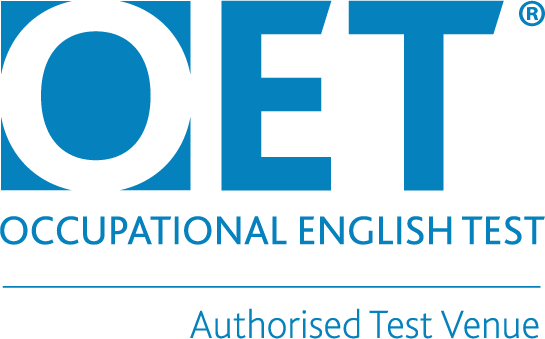 We are a Venue provider for the paper-based OET in Ghana
On September 22, 2022, the Centre for Professional Studies also successfully signed a memorandum of understanding with Cambridge Boxhill Language Assessment under which Wisconsin International University College, Ghana has been made the only paper-based occupational English Test (OET) center in Ghana. OET is an international test that assesses the English Language and Clinical communication skills of healthcare professionals who want to register and work in an English-speaking country. The Centre is alreadyset  up with all the required facilities according to OET Standards and the interlocutors, invigilators as well as administrators have all been recruited. The appropriate orientation has been given to them in readiness for the start of its first test on November 19, 2022.
OET is the healthcare-specific English language test. It assesses the language proficiency of healthcare professionals looking to register and practice in an English- speaking environment. OET has been developed specifically for 12 healthcare professions and you are eligible to take the test if your profession is among these healthcare professions: Dentistry, Dietetics, Medicine, Nursing, Occupational Therapy, Optometry, Pharmacy, Physiotherapy, Podiatry, Radiography, Speech Pathology, and Veterinary Science.
Contact For Enquiry
DATES FOR NEXT EXAMINATIONS
| Exams Date | Registration Deadline | Profession Available | Results Published |
| --- | --- | --- | --- |
| Saturday, 8th July 2023 | Wednesday, 14th June 2023 (12pm) | Nursing, Medicine, Dentistry, Pharmacy, Physiotherapy, Radiography | Tuesday, 25th July 2023 |
| Saturday, 22nd July 2023 | Wednesday, 28th June 2023 (12pm) | Nursing, Medicine | Tuesday, 8th August 2023 |
| Saturday, 5th August 2023 | Wednesday, 12th July 2023 (12pm) | Nursing, Medicine, Dentistry, Dietetics, Occupational Therapy, Optometry, Pharmacy, Physiotherapy, Podiatry, Radiography, Speech Pathology, Veterinary Science | Tuesday, 22 August 2023 |
| Saturday, 19th August 2023 | Wednesday, 26th July 2023 (12pm) | Nursing, Medicine | Tuesday, 5th September 2023 |
| Saturday, 2nd September 2023 | Wednesday, 9th August 2023 (12pm) | Nursing, Medicine, Dentistry, Pharmacy, Physiotherapy, Radiography | Tuesday, 19th September 2023 |
| Saturday, 16th September 2023 | Wednesday, 21st August 2023 (12pm) | Nursing, Medicine | Tuesday, 3rd October 2023 |
| Saturday, 30th September 2023 | Wednesday, 6th September 2023 (12pm) | Nursing, Medicine, Dentistry, Dietetics, Occupational Therapy, Optometry, Pharmacy, Physiotherapy, Podiatry, Radiography, Speech Pathology, Veterinary Science | Tuesday, 17th October 2023 |
| Saturday, 14th October 2023 | Wednesday, 20th September 2023 (12pm) | Nursing, Medicine | Tuesday, 31st October 2023 |
| Saturday, 28th October 2023 | Wednesday, 4th October 2023 (12pm) | Nursing, Medicine, Dentistry, Pharmacy, Physiotherapy, Radiography | Tuesday, 14th November 2023 |
| Saturday, 11th November 2023 | Wednesday, 18th October 2023 (12pm) | Nursing, Medicine | Tuesday, 28th November 2023 |
| Saturday, 2nd December 2023 | Wednesday, 7th November 2023 (12pm) | Nursing, Medicine, Dentistry, Dietetics, Occupational Therapy, Optometry, Pharmacy, Physiotherapy, Podiatry, Radiography, Speech Pathology, Veterinary Science | Tuesday, 9th January 2024 |
| Saturday, 16th December 2023 | Wednesday, 22nd November 2023 (12pm) | Nursing, Medicine | Tuesday, 16th January 2024 |